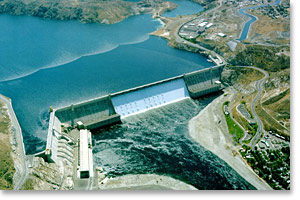 Washington is a state of contrasts and its lakes rest within volcanic ranges or within northwestern rainforest or gentle plains. Houseboating in Washington is an activity that changes by the lake and even the same lake can be a very different experience several times. Visit one of our Washington houseboating lakes for an experience you'll never forget.
Take a look at the lakes we offer below and click a link to be taken to that lake's page.  From there you can look at pictures, floorplans, pricing information and much more.
If you would like help selecting the houseboat or lake that is right for you, please give us a call toll-free at 888-454-8825.


Lake Roosevelt - Moose walk the trees along the steep shores of Lake Roosevelt and the water is just as wild, clean and cool.
The lakes below are not within Washington, but are excellent, nearby lakes to visit as part of your houseboating vacation.

Lake Koocanusa - Lake Koocanusa is a wild lake, a lake of Kokanee Salmon and Cutthroat Trout in the water, of great blue herons on the banks.
Lake Shuswap - This magnificent lake, halfway between Calgary and Vancouver, is a recreation and houseboating paradise.