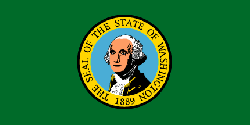 Washington
"Evergreen State"
Motto

Al-Ki (Indian word meaning "by and by")

Capitol

Name Origin

In honor of George Washington

Statehood Date

Nov. 11, 1889 (42nd)
Cities in Washington
NOTE: Not all cities are displayed. Please narrow your selection by using the search above.
Official Symbols
A state's official symbols represent the composition and culture of the land and people who live and have lived here. Below are the symbols of Washington along with the year they became official.
| | |
| --- | --- |
| Flower | Coast Rhododendron (1892) |
| Tree | Western Hemlock (1947) |
| Bird | Willow Goldfinch (1951) |
| Fish | Steelhead Trout (1969) |
| Gem | Petrified Wood (1975) |
| Colors | Green And Gold (1925) |
| Song | "Washington, My Home" (1959) |
| Folk Song | "Roll On Columbia, Roll On" (1987) |
| Dance | Square Dance (1979) |
| Grass | Bluebunch Wheatgrass (1989) |
| Insect | Blue Darner Dragonfly (1997) |
| Fossil | Columbian Mammoth (1998) |
| Fruit | Apple (1989) |
Demographics
Population Density

88.6 people per square mile
Geography and Weather
Land Area

66,544 sq mi. (172,349 sq km)

Lowest Elevation

0 ft (0 m)

Average Elevation

1700 ft (518.16 m)

Highest Temperature Recorded

118°F (48°C) on August 5, 1961

Lowest Temperature Recorded

–48°F (–44°C) on December 30, 1968