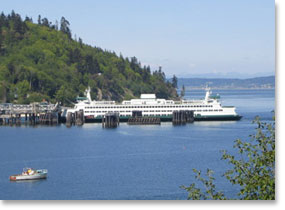 The state of Washington maintains the largest ferry system - auto and passenger - in the United States, and one of the largest in the world. Over 25 million people a year ride on the ferry system, with more than half of these commuters traveling to and from work. There are 10 ferry routes and over 500 daily trips, but during peak rush hour times there can be long lines at the ferry terminals. If you've never been aboard an auto ferry, the experience can be a little nerve-racking at first, but ultimately a ferry trip can be a great means to explore the greater Seattle area and the Puget Sound, and can cut hundreds of miles off a trip from the mainland to the Olympic peninsula and Olympic National Park.
All of the Washington State ferries are double-ended ships, meaning you drive in one end and out the other. While each ferry terminal is slightly different, the basic directions to board a ferry are simple. Approaching a terminal, you drive through a toll-both and purchase a ticket. Tickets range from $15 - $50 for a vehicle and driver, with discounted tickets available for additional passengers, motorcycles, bicycles, and foot passengers. Tickets can also be purchased online at the Washington State Ferry website, or locations around the Puget Sound and the Kitsap Peninsula.
Once through the toll booth, you will be directed to one of many parking lanes, depending on your desired destination. It is best to arrive at least 30 minutes before the scheduled departure time, but during peak times it is best to arrive much earlier. When the ferry arrives, loading is done on a first come - first served basis, and once in the auto queue, it is difficult to switch lanes or leave. Automobiles are packed tight aboard the ferries, so plan ahead and leave a little room to guarantee you can open your door.
As the ferry departs, you can stay in your car, but most seasoned ferry passengers will lock their car, and walk around the upper decks of the ferry, taking in the fresh sea breeze from a balcony, or grab a bite to eat. The Seattle to Bainbridge Island and Port Townsend to Keystone are particularly popular ferries for those wishing to take a ferry trip, and both routes take about a half-hour to travel, not including departure waiting time. Reservations are available on some, but not all, ferry routes.
There are several private ferry companies that also service the Puget Sound area; while some focus on exploring the San Juan Islands, others cross the border between Canada and the United Stated while shuttling passengers and vehicles between Seattle and Victoria, British Columbia.