The Olympic peninsula has more than 30 scenic towns and cities, 13 salmon-bearing rivers, 10 breathtaking lakes and reservoirs, upwards of 15 state and national parks, and at least 5 designated wilderness areas. There is 73 miles of coastline, three rainforests, an oft snow-capped mountain range, and dozens of breathtaking waterfalls. So, where do you start? Here are a few lists of cities and locations on the peninsula.
Overview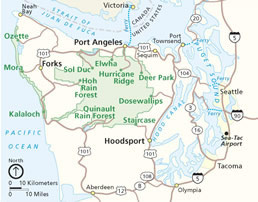 Brinnon/Quilcene - These two delightful small towns are nestled in the scenic area of Highway 101, hugging the shore of the great fjord called Hood Canal. Quilcene and Brinnon offer sheltered, deepwater marinas, three major rivers, and clam and oyster beaches. There are camping venues in Olympic National Forest and along the beach. Bring your kayaks, boats, and scuba and fishing gear. Enjoy the Brinnon Shrimpfest on Memorial Day Weekend. Take in the Quilcene Fair. Visit a world-renowned rhododendron nursery. View major oyster farms.
There are two Visitor Centers, one at the U.S. Forest Service ranger station in Quilcene and one at Brinnon Community Center. Both have detailed maps and current information about the national forest, national park, and surrounding areas. This is the eastern access to Olympic National Park and Forest, which are abundant with all levels of hiking trails. Falls View Park and waterfalls, and Mount Walker viewpoints are all within a few minutes drive of either community.
Clallam Bay/Sekiu - This relaxed coastal area, there are about two miles separating the towns, is home to stunning coastline and plentiful wildlife. Visitors can enjoy kayaking, scuba diving, surfing, and fishing in the bay. The two miles separating Clallam Bay and Sekiu are great for beachcombing. Sekiu's waters draw fishermen from around the world hoping to catch salmon and halibut.
Sea otters, orcas, grey whales, and California sea lions are a few of the marine mammals that roam these waters. Sekiu Overlook is a designated Whale Trail site. There are many species of migratory and resident birds in the area. Birdwatchers may glimpse puffins, swans, raptors, and thousands of coastal birds. Just across the Strait of Juan de Fuca is Vancouver Island, B.C.
Nearby is Olympic National Park's Lake Ozette. Hikers following the nine-mile triangle from Ozette to Cape Alava to Sand Point will pass ancient petroglyphs.
La Push - A short drive from Forks and the Hoh Rainforest is the village of La Push. This peaceful village on the Pacific coast has been home to the Quileute Tribe for thousands of years. From La Push whale watchers can catch glimpses of grey whales migrating north from mid-February through May. La Push's beaches are popular with surfers and paddle boarders. During the winter months, dramatic storms can be seen off the Pacific coast.
Fishermen have their choice of ocean fishing, for halibut, lingcod, and rockfish or fly-fishing the many rivers close by. La Push is located near the mouth of the Quillayute, Sol Duc, and Bogachiel Rivers.
Visitors are asked to be respectful of Quileute culture and traditions. Please ask before taking photographs.
Neah Bay - Located at the northwestern most part of the continental United States, Neah Bay is home to the Makah Nation. Visitors are invited to learn about the Makah tribe past and present at the Makah Cultural and Research Center. Exhibits include historic artifacts including some dating back 300-500 years, as well as modern photographs and a life-size longhouse reproduction.
One of the major attractions in Neah Bay is the Cape Flattery Trail. This ¾ mile hike traverses the Makah Wilderness Area and ends at the Pacific coast with spectacular views of sea stacks and wildlife. Not far from Cape Flattery is the trail to Shi Shi Beach, often described as one of the most dramatic beaches of the Olympic Peninsula. This part of the coast is protected as the Olympic Coast National Marine Sanctuary. When entering the reservation please pick up a $10 recreation permit.
Shelton and Mason County - Shelton is a unique and delightful town on the South Hood Canal. The town's forestry heritage is evident with it playing homage to Paul Bunyan and Babe the Blue Ox. The downtown core offers turn-of-the century architecture, antique shops, gift shops, fitness clubs, fine restaurants, lazy creeks, and numerous parks.
Shellfishing is big business in Mason County. Each October the annual OysterFest is not to be missed! OysterFest is Washington's largest seafood festival with hundreds of different seafood dishes, microbrew beer garden, live music, and the West Coast Oyster Shucking Championships!
Whether you want to be on the water, in the water, or just near it, the waterways and estuaries of Hood Canal and South Puget Sound, glacier fed rivers of Skokomish, and more than one hundred freshwater lakes such as Lake Cushman and Mason Lake will keep you in aquatic bliss.
Chimacum/Port Hadlock - These rural communities were home to agriculture, iron smelting, and lumber industries. While smelting and most lumber industries have disappeared, agriculture is seeing a major resurgence. New farms, including a cidery, have sprung up. These provide "farm to table" culinary delights for visitors and locals alike.
Plenty of parks and campgrounds are open for recreation opportunities. Visitors can fish on freshwater lakes and saltwater bays. Clams and oysters, during season, can be gathered from many public beaches. On shore winds provide excellent kite and wind surfing off south Indian Island beaches.
Port Ludlow - Once a logging and ship building town, Port Ludlow now encompasses protected woodlands, a small retail village, and a variety of residential neighborhoods. Less than ten minutes from the west end of the Hood Canal Bridge, Port Ludlow is home to a charming 37-room bayside inn, a 300-slip marina, and a championship 18-hole golf course.
Adventure seekers can kayak the protected waters of Ludlow Bay, bike or hike 18 miles of maintained trails, or try their hand at crabbing or trout and salmon fishing.
Enjoy a selection of dining options ranging from delightful café menus to farm-to-table style cuisine. There are miles of beach to explore and abundant wildlife to watch, including a group of bald eagles on the colorful totem pole at Port Ludlow's historic mill site, Burner Point.
Quinault (Amanda Park) - Located in the heart of the Quinault Valley, the town of Quinault (Amanda Park), is the southern gateway to Olympic National Park. The area is known for its stunning natural beauty including the Quinault Rainforest and Lake Quinault. Known as the "Valley of the Giants" the Quinault Valley is home to some of the largest trees in the world. Hikers can see huge Sitka Spruce, Yellow Cedar, Mountain Hemlock, Western Red Cedar, and Douglas Fir trees. The area is also home to abundant wildlife including bald eagles, bobcats, and black-tailed deer. The Quinault Valley is a popular outdoor recreation destination with hiking trails suitable for most abilities.
This area is home to the Quinault Tribe one of seven tribes the form the Quinault Indian Nation. Guided fishing and scenic tours are great ways to experience the Quinault Valley with members of the tribe.
Lake Quinault Museum, formerly the Quinault Post Office, displays the history of native Quinaults and early pioneers to the area.
Sequim - Sequim is commonly known as the Lavender Capital of North America. The town sits in the shadow of the Olympic Mountains, which cause a unique microclimate ideal for growing lavender. The sprawling fields and farms of lavender are often compared to those found in Provence, France. In July, Sequim celebrates this fragrant herb with Lavender Weekend. This huge event draws visitors from around the world.
Sequim is home to a vibrant art scene. There are numerous art galleries, summer artisan markets, concerts, and more. Just west of town is the Jamestown S'klallam Tribe. Totem Tours and carving demonstrations are available at the Jamestown S'klallam carving shed.
Sequim is located near Dungeness Spit, home to the Dungeness National Wildlife Refuge. Over 250 species of birds, 41 species of land mammals, and 8 species of water mammals can be found here. This is a popular area for hikers and kayakers. At the end of the spit is the New Dungeness Lighthouse, originally built in 1857 and now on the National Register of Historic Places.
Union - The quaint town of Union is rated one of the 20 most beautiful towns in the USA. Union features some of the area's best music, art and culture. Highlights include: Alderbrook Resort and Spa, Alderbrok Golf Course, Harmony Hill (a world-famous cancer retreat and healing center), the historic Dalby Waterwhell, and the ongoing restoration of the McReavy Mansion. There are also many specialty shops and boutiques.
Joyce - Just west of Port Angeles on the Juan de Fuca National Scenic Byway is the town of Joyce. Joyce was originally the late 1800s boomtown of Port Crescent. The town's boomtown history can be found at the Joyce Depot Museum. The Joyce General Store celebrated its 100th birthday in 2011.
During summer, this quiet town goes crazy for berries. The Joyce Daze Wild Blackberry Festival is fun and family-friendly. The main star, Joyce's delicious wild blackberries are everywhere, from the pancake breakfast to the pie contest. Nearby Salt Creek Recreation Area and Freshwater Bay are popular camping and recreation sites.
Cities / Towns
| | |
| --- | --- |
| Amanda Park | Ocean City |
| Belfair | Ozette |
| Brinnon | Pacific Beach |
| Chimacum | Port Angeles |
| Clallam Bay | Port Hadlock |
| Discovery Bay | Port Ludlow |
| Eldon | Port Townsend |
| Forks | Potlatch |
| Hoodsport | Poulsbo |
| Hoquiam | Quilcene |
| Kalaloch | Quinault |
| La Push | Sequim |
| Lilliwaup | Sekiu |
| Moclips | Shelton |
| Neah Bay | Union |
|   |   |
Lakes / Rivers / Waterfalls
| | |
| --- | --- |
| Natural Lakes: | Waterfalls: |
| Kitsap Lake | Fallsview Falls |
| Lake Crescent | Marymere Falls |
| Lake Ozette | Murhut Falls |
| Lake Sutherland | Madison Creek Falls |
| Lake Quinault | Merriman Falls |
| Lake Pleasant | Dosewallips Falls |
|   | Rocky Brook Falls |
| Reservoirs: | Spoon Creek Falls |
| Lake Aldwell | Sol Duc Falls |
| Lake Mills | |
| Lake Cushman | |
| Wynoochee Lake | |
|   | |
| Major salmon-bearing rivers: |   |
| Humptulips | |
| Quinault | |
| Queets | |
| Quillayute | |
| Bogachiel | |
| Sol Duc | |
| Lyre | |
| Elwha | |
| Dungeness | |
| Dosewallips | |
| Hamma Hamma |   |
| Skokomish | |
| Wynoochee River | |
| | |
| | |