North Cascades National Park is a complex that encompasses a good amount of area and links four other parks. Take a moment to gain a better understanding of how the park is layed out as well as what there is to do where within the park.
Overview

The North Cascades National Park complex links four neighboring units: North Cascades National Park North and South Units, and Lake Chelan and Ross Lake National Recreation Areas. Other wilderness and national forest lands border the park complex on all sides.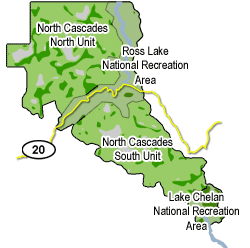 Like the other two National Parks in Washington, most of the North Cascades is designated as wilderness, which means foot travel is the only means to explore much of the park area. Within park lands, the most glaciers can be found outside of Alaska, as well as rugged mountain peaks and broad U-shaped glacial valleys. Two such valleys have been dammed to produce Lake Chelan and Ross Lake, and travel across these lakes by canoe or kayak is a very popular method to explore the backcountry.

Protected as a wilderness area, the North Cascades National Park complex is home to a variety of large animals rare in the lower 49 states, like grizzly bears, wolves, and lynx. Many travel to the park with the hope of observing this animals from a distance in the wild.
North Unit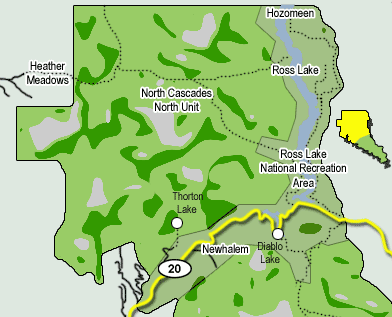 The two halves of North Cascades are divided by Highway 20, and most of the access points to the highest reaches of the range are off this valley road. Other trails lead into the park from Highway 542 north of
Mount Baker
and from Canada to the north.
Heather Meadows ? Although west of the park boundaries, the several campgrounds in this area north of Mount Baker offer brilliant views of massive Mt. Shuksan, which is dwarfed only by Mt. Baker itself. The Little Beaver Creek trail traverses the park here to Ross Lake.
Thorton Lake Trail ? A nice day hike or overnight backpack trip to a beautiful sub-alpine lake surrounded by a mature hemlock forest and meadows of wildflowers.
Newhalem Area ? Several trails of varing difficulty can be found in this area, heading both north and south. The "To Know A Tree" nature trail, departing from the Newhalem Creek Campground, is a short interpretative trail featuring common trees along the way.
Ross Lake National Recreation Area ? Scenic trails head up the west and east banks of Ross Lake, and eventually reconnect with the Hozomeen area and Little Beaver Creek trail. A kayak or canoe trip up the waters allow you to quickly explore the glacial mountains.
South Unit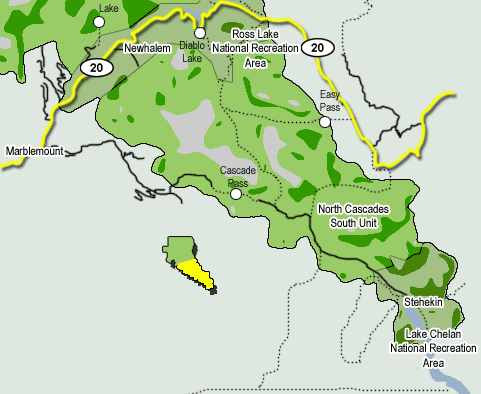 The South Unit is more accessible than the North Cascades National Park North Unit, and has miles of trails that are generally considered some of the best in the park. Lake Chelan National Recreation Area to the extreme south brings visitors via ferry to the Stehekin area to join trails heading over Cascade Pass.
Easy Pass ? Extensive meadows and glacial peaks define this short and steep trail. The panoramic vistas of Fisher Basin, wildflowers, and mountain goats reward the determined.
Stehekin Area ? This small community on the northern end of Lake Chelan, accessed by boat or floatplane, is a romantic destination for hikers wishing to explore the surrounding area. Trails pass historical buildings to War Creek Pass, and up the Stehekin River Valley to Cascade Pass.
Some Other Things To Know
Pets
Dogs and other pets are not allowed within the national park except on a leash on the Pacific Crest Trail, and within 50 feet of roads. Service animals are allowed for those with disabilities.
Pets are allowed on a leash within the Ross Lake and Lake Chelan National Recreation Areas. Pets are also allowed on most surrounding national forest lands.
If you are not sure where you can hike with your pet, please call the Wilderness Information Center at 360-854-7245 for trip suggestions.