Mount Rainier National Park consists of Longmire and Ohanapecosh, the alpine meadows of Paradise and Sunrise, or The Mountain itself. Take a minute to read through the information below to ensure you're properly oriented with what the park offers to ensure a great visit.
The Mountain - Mount Rainier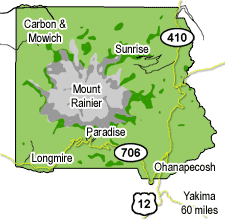 There is over 240 miles of trails in Mt. Rainier National Park, and most circle or approach Mount Rainier itself in some fashion. Hiking up to the base of the glaciers, one progresses out of the lush forest to subalpine wildflower meadows, and finally to fragile alpine hillsides.

Climbing the actual mountain is difficult, and not for everyone, with most climbers taking two to three days to reach the summit. Climbers must be well versed in glacier travel, and only roughly half of the attempts are successful. For your first summit attempt, hook up with a Mount Rainier Guide or Outfitter.
South of The Mountain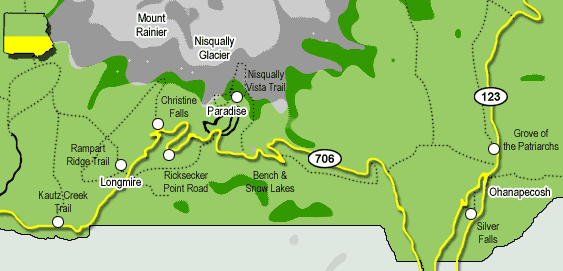 Longmire
In the southwest corner of the park, Longmire served as the original park headquarters. A museum highlights the early days of the park, and a historic set of hotels and inns provide rustic northwest lodging in this inland temperate rainforest. Some day hikes and sites around Longmire include:
Christine Falls - A very pretty waterfall, exceeded only by its ongoing popularity. A short walk takes you to the famous view of the falls below the original stone bridge.
Ricksecker Point Road ? 6 miles east of Longmire, this one-way road features epic views of Mount Rainier and the surrounding valleys and mountain ranges. Open during summer months only
Rampart Ridge Trail ? A 4.6 mile trail loop, with the trailhead along the Trail of the Shadows near the National Park Inn. A steep trail that passes through old-growth forests and offers incredible views.
Paradise
Famous for majestic alpine views and wildflower meadows, with over 600 inches of snow each year Paradise is a paradise for cross-country skiing, snowshoeing, and other winter recreation. In addition to exploring the historic Paradise Inn, some hiking options open during the summer include:
Nisqually Vista Trail ? A 1.2 mile trail loop with excellent views of the nearby Nisqually Glacier
Bench & Snow Lakes ? Some of the best sub-alpine wildflower viewing can be had along this trail off Stevens Canyon Road.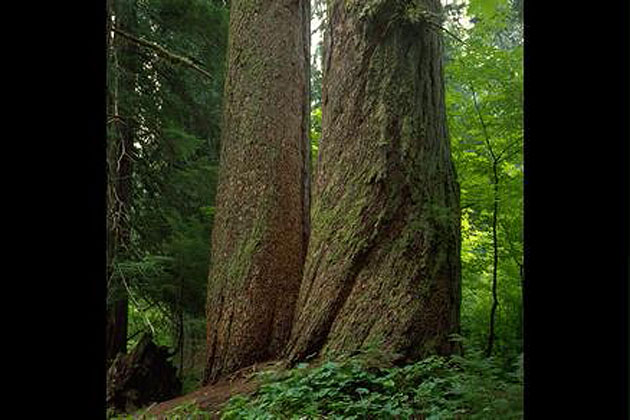 Ohanapecosh
In the southeast corner of Mount Rainier National Park, Ohanapecosh is drier than Longmire and Paradise. Here visitors can explore the diversity of old-growth forests. Ohanapecosh is not plowed or accessible in the winter.
Grove of the Patriarchs ? The highlight of Ohanapecosh, this protected island of century old trees and pristine rivers is a must stop.
Silver Falls Trail - The Ohanapecosh River plunges 75 feet, and can easily be reached along a 3 mile trail.
Sunrise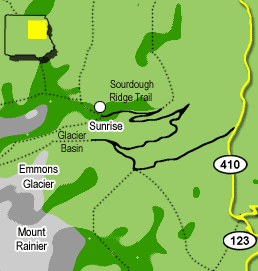 The aptly named Sunrise is the highest point in the park accessible by car, and its location on the east side of Mt. Rainier means that the first orange light of each day illuminates the top of the mountain well before the surrounding area.

Awe-inspiring views of Mt. Rainier and nearby glaciers can be found nearby, and due to its proximity to the mountain, Sunrise is a great departing point for a backcountry hike or weekend backpack trip.
Glacier Basin Trail ? Wildflower meadows, mountain goats, and returning mountain climbers are just a few of the attractions leading to a view of Emmons Glacier, the largest glacier in the lower 48 states.
Sourdough Ridge Trail ? For a breathtaking view of Mt. Rainier and the surrounding peaks extending to Mount Baker in the far north part of Washington, this 1 mile loop can't be beat.
Carbon River and Mowich Lake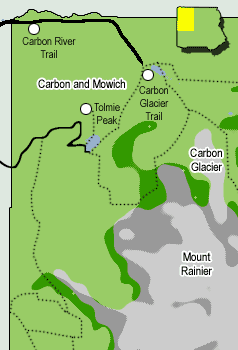 Not as accessible as the other corners of Mt. Rainier National Park, the northwest corner is reachable by high clearance vehicles only, and the road is prone to flooding. Those that make is are rewarded with one of the most presine old-growth temperate rainforests in Washington. Temperate rainforests rarely occur this far inland, making this area unique in the world.

Mowich Lake is the largest lake in the park, and the Mowich Lake Campground has numerous campsites to pitch a tent in the forest for a night.
Carbon River Rain Forest Nature Trail ? This short trail is a great way to start an exploration of the temperate rainforest.
Carbon Glacier Trail ? Although the glacier is not accessible ? and dangerous ? this 7 mile hike leads through old-growth forest to the base of Carbon Glacier.
Tolmie Peak Trail ? For those looking to bag a quick peak, this 6.5 miles hike takes you to the Tolmie fire lookout, and one of the best east facing unbroken views of Mount Rainier.
Some Other Things To Know
Pets
Pets are welcome at Mount Rainier, but they and their owners must practice the following:
At all times, pets must be on a leash not more than 6 feet in length or in a cage.
At all times, pets must be with and under the control of their owners.
Owners must pick up and dispose of all fecal matter.
At Mount Rainier, pets are NOT allowed in the following areas (service animals excepted):
On trails**
In wilderness and/or off-trail areas
Inside buildings
In amphitheaters
On snow
**The Pacific Crest Trail is the one exception to this rule. Dogs on a leash no longer than 6 feet are permitted on the Pacific Crest Trail.
Where are pets permitted at Mount Rainier?
Pets are permitted in parking lots, campgrounds, and on paved roads. While in these areas, pets must, at all times, be leashed or crated and with their owners.
For the safety of your pet and the benefit of park wildlife and other visitors, never leave your pet unattended in a vehicle or in the campground.
Mount Rainier National Park does not have kennel facilities.