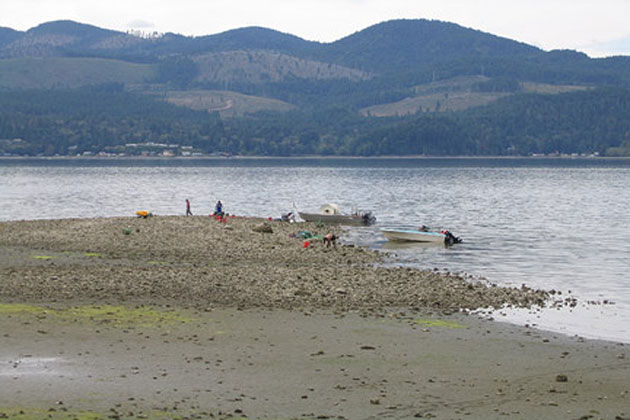 Gathering shellfish, including the incredible geoduck, is a favorite activity in the Puget Sound area.  There is much to know when hunting oysters or clams - for the uninitiated it only looks like digging in the mud - so it is best to learn under the tutelage of a local guide.  There are several outfitters that incorporate digging durring a boating or whale watching tour around the San Juan Islands in Puget Sound.
No shellfish gathering in the state of Washington is complete without digging for the geoduck, the "King of the Clams."  This bivalve can grow to almost 2 pounds, and can live for well over a hundred years.  Geoducks are generally found at extreme low tides, and still requires a skilled use of the shovel.  The traditional technique for digging a geoduck, similar to other clam digging, requires the initial identification of a potential geoduck siphon (neck) breaking the surface of the beach.  A open-ended bucket or tube is used to support the sand as the geoduck is carefully removed via shovel.  It is unlawful to possess only the siphon of the geoduck - the entire clam must be removed, and the hole filled up when you are done.  The process is hard work, but the tasty reward is an authentic Washington experience.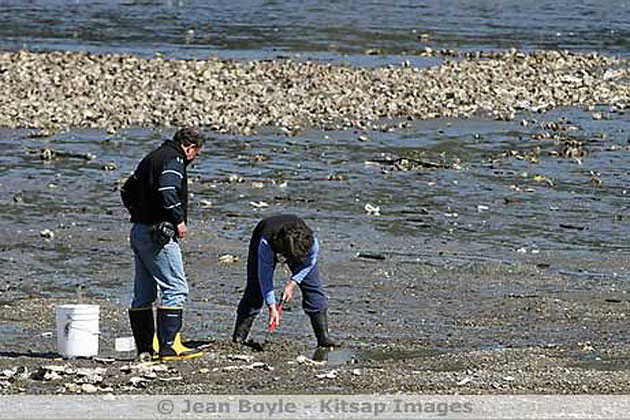 All public beaches in the Puget Sound and Kitsap Peninsula area, as well as along the coast by Port Townsend, have clam or oyster population, but check locally for heath and wildlife regulations before digging.  Check out the beaches and state parks below for great clam, oyster, and geoduck digging locations.