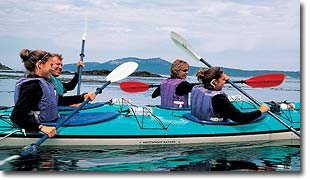 Looking for a thrilling bike tour of the San Juan Islands, sea kayaking the inlets and narrows between over 700 individual islands, or watching orcas and bald eagle in their natural habitat? Check out the trip packages below to explore the island jewels of the Puget Sound. Many combine hiking, bicycling, sea kayaking, fishing, shellfish collecting and clam digging, and other unique Pacific northwest activities.
Adventure trips and activity tours that take place in the Whidbey Island and Anacortes area are listed below. Click on any adventure guide listed for complete details.
To search for adventure guide companies throughout Washington, select Adventure Trip Search.
Whidbey Island Trips
Search Whidbey Island Trips